Scientific Name(s):
Solanum nigrum, Solanum ptychanthum, Solanum americanum
Abundance:
plentiful
What:
leaves, ripe berries
How:
berries raw, leaves cooked
Where:
yards, fields
When:
summer, early fall
Nutritional Value:
assorted vitamins, minerals
Dangers:
high concentrations of toxic alkaloids (solanine and others) found in green berries and smaller amounts in leaves. Cooking leaves reduces toxins to safe levels.
Black nightshade (Solanum ptychanthum) bush.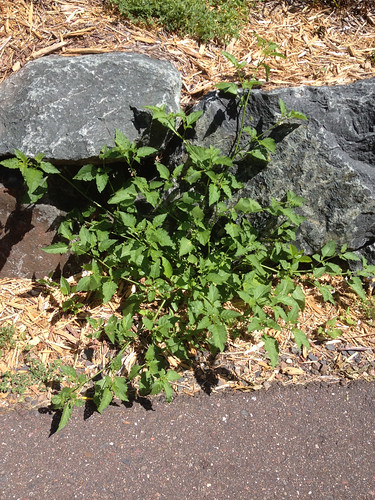 Black Nightshade flowers. Note the backwards-pointing petals.
Close-up of black nightshade (Solanum ptychanthum) flower (white petals, yellow center.
Closeup of black nightshade (Solanum ptychanthum) fruit. Ripe fruit is black, unripe fruit is speckled green.
Don't eat the green fruit!!
Black nightshade (Solanum ptychanthum) leaves.
Front (left) and Back (right) of leaves.
Texas distribution, attributed to U. S. Department of Agriculture. The marked counties are guidelines only. Plants may appear in other counties, especially if used in landscaping.
This map is incomplete.
North American distribution, attributed to U. S. Department of Agriculture.
Spring up uninvited just about anywhere some bare, fertile soil waits, black nightshades with its tiny white flowers, clusters of black berries, and small leaves can grow 3' to 4' tall and just as wide between spring and the first frost of winter.
The leaves are lanceolate or elliptic in shape with smooth edges. Looking closely at the flowers, the petals are revealed to be folded backwards, an indication you are looking at the mellow-flavored Solanum ptychanthum aka American nightshade. The berries of this plant start out green with white spots but quickly turn black and edible. Birds love these berries which is why the plant quickly gets spread far and wide via bird poop. You'll find flowers, unripe berries, and ripe berries all at the same time on a single plants as it continuously produces its tiny fruit all summer long.
The main edible portion of Solanum ptychanthum are its leaves which I love cooked in curry sauce then poured over chicken and rice. Time spent with the amazing forager, Sam Thayer, revealed the young, tender leaves are a fine, raw addition to salads. That being said, it's still safest to cook the leaves, especially if you aren't used to eating lots of wild plants.
The very similar-looking Solanum nigrum is one of the most popular vegetables of Asia and Southern Europe yet here in North America, where it has naturalized, it is lumped in with its much more poisonous family members such as belladonna. Its green, immature berries do contain solanine but the ripe berries are safe to eat. My preferred way of preparing them is baking in muffins and pies.