Scientific name:
Vitis rotundifolia
Abundance:
common
What:
fruits, leaves, young tendrils
How:
fruit raw, cooked, dried, preserves, wine; leaves and tendrils cooked.
Where:
Edges of woods, Its leaves aren't as fuzzy as Mustang grapes nor do they have white undersides.
When:
late summer, fall
Nutritional Value:
, calories, antioxidants, very low in vitamins and minerals.
Immature fruit.
Mature fruit.
Fallen mature fruit.
Close-up of leaves
Muscadines have a single tendril growing opposite of the leaf.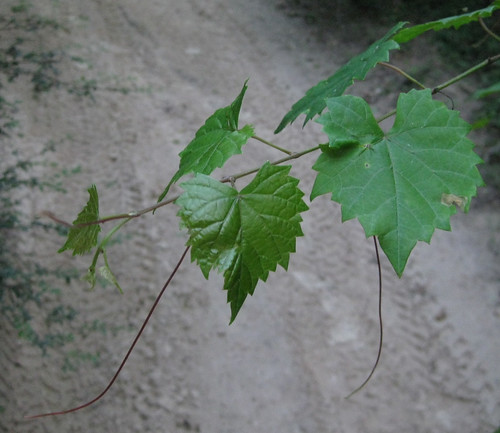 Very old vines.
Very mature grape vines.
Texas distribution, attributed to U. S. Department of Agriculture. The marked counties are guidelines only. Plants may appear in other counties, especially if used in landscaping.
North American distribution, attributed to U. S. Department of Agriculture.
Muscadine Grape vines cover the woods of gulf coast, east, and central Texas. These fast growing vines can be found climbing many trees and old, abandoned equipment. The fruit does require sunlight to ripen properly so often it'll be way up among the tree tops rather than being easily accessible. Muscadine Grape leaves are shiny and smooth both on top and underneath, unlike the fuzzy, gray undersides and smooth, green tops of
Mustang Grape
leaves.
When ripe the fruit is very sweet and flavorful but unlike store-bought grapes the skins of muscadines is very thick/chewy and the inner pulp is quite gelatinous. The seeds can be eaten with the grape or saved to be crushed for grape oil. The white, powder coating on the skin is a naturally-occurring yeast which can be used to ferment the crushed grapes into wine.
Muscadine grape vines can be used as an emergency water source in the woods. Cut through a thick grape vine as high up as you can reach, followed by cutting through it again at the very bottom. To collect the water which drips out support the top end up in the air and place the bottom end below it in a container. Once the water flow stops cut two feet off the top and more water will drip out of the vine. Repeat the cutting off of the top two feet every time the water stops flowing until no vine is left.
I love this book for wine-making recipes:
101 Recipes for Making Wild Wines